It has happened again. The Swedish Yule Goat in Gävle was burnt to the ground last night, only 1 week old.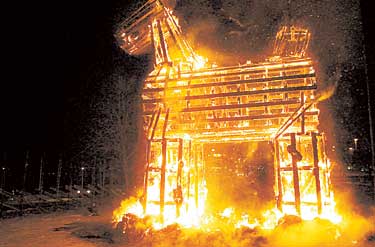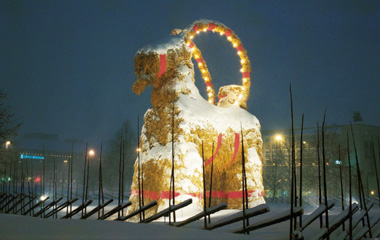 The goat has been built and erected almost every year since 1966, in the main square in the town of Gävle. The goat has since had a history of being burnt down roughly every other year, and this year is the 28th time. From 1988 onward, English bookmakers made it possible to bet on the goat's destiny, and the goat has featured in the Guinness Book of Records at least twice.
Burning the goat is an illegal act and can result in severe fines or even prison time for arson. However, up to 2005, only four people have been caught or convicted. The burning of the Gävle Goat is not officially welcomed by the citizens of Gävle, but it has made the goat famous and led to increased tourism. The Department of Tourism in Gävle gets bombarded with e-mails from all over the world questioning whether the city supports the burning of the Gävle Goat. Officially the city says that it does not support the burnings.
In 2001, a 51-year-old American visitor set fire to the goat. He had to spend 18 days in jail and was subsequently convicted and ordered to pay 100,000 SEK in damages. The court also confiscated his cigarette lighter with the argument that he clearly was not able to handle it. The American stated in court that he is no "goat burner", and believed that he was taking part in a completely legal goat-burning tradition.
Different approaches have been tried and tested to prevent the goat from burning down, including various flame repellents, web cam surveillance, and local volunteers guarding the goat. Despite this, the goat has a survival rate of about 45%, and last night it was burnt down again, according to this peculiar winter tradition.