New version of Teach Yourself Complete Swedish (Hodder & Stoughton) publishes 8 March 2018
Dr Anneli Beronius Haake from Swedish Made Easy is the author of the new book
The book includes 20 units with online audio support, plus verb reference and word glossary, with relevant and up-to-date topics, including politics, education, gender equality and popular entertainment in Sweden.
A perhaps unexpected trend in recent years is the rising popularity of Swedish in the world. It is unexpected because Swedish is not traditionally one of the more popular languages in the world, as it is typically ranked around the 90th most spoken languages in the world. But according to British Council, Swedish is in the top 10 languages in demand for export markets, along with much larger languages like French, Spanish, Dutch and German.
So why is Swedish becoming more popular? There are several theories for this rise. One is the rise of Scandinavian culture in general on an international scale, with books, TV-series and movies, many of them falling into the category known as Nordic Noir. Also, one in six Swedish residents in 2015 were born outside of Sweden (Statistics Sweden SCB), meaning that many Swedish residents are in full swing of learning the language.
On the 8th of March, the International Women's Day, Dr Anneli Beronius Haake, director of the e-learning school Swedish Made Easy, publishes a new version of Teach Yourself Complete Swedish (Hodder & Stoughton). "What is particularly useful about this book", she explains, "is that the platform language is English. Many Swedish course books made in Sweden are all in Swedish, which means that learners need a teacher to help explain the grammar at beginner's level. This book, on the other hand, has all the grammar points explained in English."
The book uses authentic conversations, vocabulary building, grammar explanations, online audio support, and extensive practice and review to equip learners with the skills they need to use Swedish in a variety of settings and situations, developing their cultural awareness along the way. The book follows several characters through a storyline enabling learners to engage with Swedish culture and contextualise their learning. The book suits the self-study learner, lessons with a one-to-one tutor, or the beginner classroom. It can be used as a refresher course as well as to support study for the 'Swedex' Swedish proficiency test.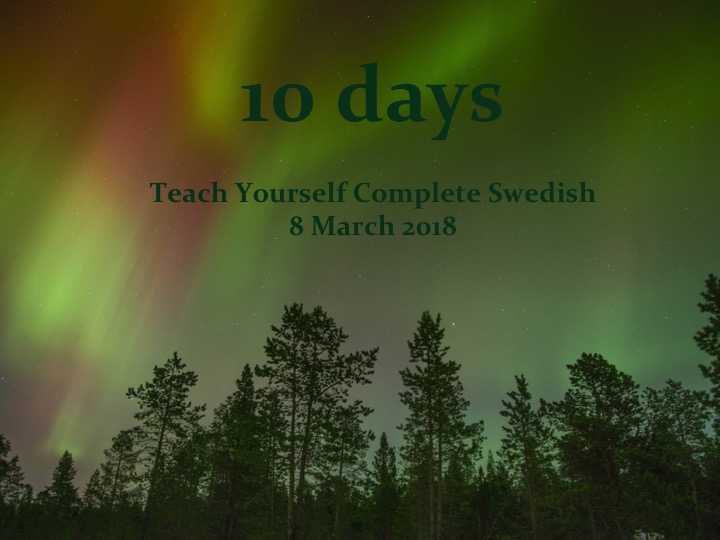 Notes to Editors
Haake, A. B. (2018). Teach Yourself Complete Swedish (Hodder & Stoughton) https://www.amazon.co.uk/Complete-Swedish-Beginner-Intermediate-Course/dp/1444195107/ref=sr_1_3?ie=UTF8&qid=1517488103&sr=8-3&keywords=teach+yourself+swedish ISBN-10: 1444195107 ISBN-13: 978-1444195101
Mikael Parkvall, "Världens 100 största språk 2007" (The World's 100 Largest Languages in 2007), in Nationalencyklopedin.
https://www.britishcouncil.org/sites/default/files/languages_for_the_future_2017.pdf
http://www.scb.se/sv_/Hitta-statistik/Artiklar/Finland-och-Irak-de-tva-vanligaste-fodelselanderna-bland-utrikes-fodda/
About Swedish Made Easy and Dr Anneli Beronius Haake
Swedish Made Easy was founded by Anneli Beronius Haake in 2005. It is an e-learning and Skype-based language school, which specialises in the teaching and assessment of Swedish language skills, including SWEDEX levels A2-B2. Swedish Made Easy believes in using modern technology to share the Swedish language and culture across the globe.
Dr Anneli Haake is a native Swedish language and culture specialist and translator. Anneli was awarded a BA (Hons) at University of Stockholm in 2003 before transferring to the UK to complete her PhD and a PCHE (Postgraduate Certificate in Higher Education) at University of Sheffield, UK. Anneli has been featured in numerous media outlets, including the BBC and The Guardian. Anneli has experience of teaching students from a broad range of nationalities and has worked with organisations such as Örebro University, Lund University, Jönköping University, as well as large multi-nationals including Abercrombie & Fitch, E-ON and Spotify and various language agencies.