Today, 541 years ago, Slaget vid Brunkeberg (The Battle of Brunkeberg) took place. The battle was fought between the Swedish regent Sten Sture the Elder and forces led by Danish king Christian I, both part of the Kalmar Union, in which Christian I aimed to unseat Sten Sture.
The background was that Sten Sture had a lot of support among the peasants in the miningregion of Bergslagen, an area that did a lot of trade with German cities. There were often conflicts around the Union's Danish foreign policy, and there conflicts were for propaganda reasons positioned as a national war of liberation against Danish oppressors. However, in reality, most combatants on both sides were Swedish and the roots of the conflict were primarily economic and political interests.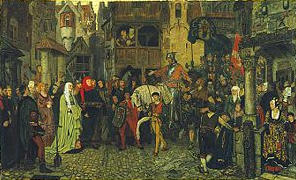 Christian I was hit in the face by musket fire, lost several teeth and had to draw back. With help of some strategic moves, Sten Sture and his men finally won the battle.
Sture's victory over Christian meant his power of Sweden was secure and would remain so for the rest of his life. According to legend, Sture had prayed to Saint George before the battle. He later paid tribute to Saint George by commissioning a statue of Saint George and the Dragon for the Storkyrkan church in Stockholm, as an obvious allegory of Sture's battle against Christian. An altar dedicated to Saint George was also built in the church.
Source: Wikipedia