Today, 125 years ago, Sweden lost one of its big superstars: "The Swedish Nightingale". The opera singer Jenny Lind passed away. She was one of the most highly regarded singers of the 19th century, and she is known for her performances in soprano roles in opera in Sweden, Europe, and in the US.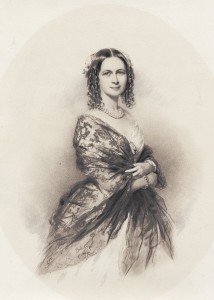 She started her success in Sweden in 1838, and was very popular in Sweden and the rest of Europe throughout the 1840's – and was also trained by the famous composer Felix Mendelssohn, before retiring at the age of 29.
But only the year after, she was invited to do a large scale tour of America, which she partly carried out under her own management. During this tour, she earned approximately 10 million dollars in today's value ($350,000 at the time) – and she donated a lot of it to charities in Sweden. She spent the later part of her life in England with her husband and three children, and she was also a professor of singing at the Royal College of Music in London.
She has left a legacy in Sweden, England and US in terms of films, statues, memorials, bank notes, as well as other places and objects – including islands, locomotives, Australian creeks, hospitals, street names, chapels, and pubs. There are also several awards and competitions in her name in US and in Sweden, among them The Jenny Lind Award chosen by the Royal Swedish Academy of Music.