Yes, a bit about me. I'm Anneli, 33 years old. I have worked as a Swedish teacher for about 6 years, focusing on distance adult learning. I started off teaching part-time while I was doing my PhD (which you can read more about here), but loved it and it kept on growing so now I am mainly focusing on the Swedish teaching. I love it, because I love helping others progress with their skills and learning, and I love watching progress and make people more confident as a result. I am also fascinated by language and the ways that language interacts with culture as well as individual personality.
I am originally from Stockholm, i.e. I was born there. I was born south of Stockholm, in a peaceful suburb, in this house. But when I was 4, I moved to Dalarna – the land of dalahästar, deep dark forests and very traditional Swedish folk culture: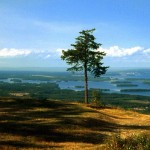 I grew up in a small village called Saxdalen, in southern Dalarna. But after turning 18, I started to long back to Stockholm and the city life style.
So I moved to Stockholm and started studying at Stockholm university, while also working. On a journey to Vietnam in 2002, I met an English guy, whom I ended up going to New Zealand with, before settling down with in the UK. But that is another story.
My family and many friends still live in Sweden, in Stockholm mainly, and I go out there at least twice a year. My heart is beating fast for Stockholm, as well as Dalarna. Other favourite places are east Skåne (although I cannot understand what they are saying either!), and also the West coast, but it was way too long ago since I was there. I am looking forward to explore Norrland properly at some point, I have some family roots there too.
I have just completed my PhD, and I also have a teaching degree – a postgrad certificate for higher education – both from University of Sheffield. I live with my husband and our dog, Cassius. Here he is on camera (the dog, that is):