What is Lucia?
In this blog post, we'll look at the Swedish lucia tradition, why Swedes celebrate an Italian saint, and we'll also look at the traditional Lucia buns that are served at this time of the year. You'll also get a free Lucia bun recipe, both in Swedish AND in English (so you can learn some new baking vocab while making your own!
The Swedish Lucia Tradition
Next week, on the 13 December, Sweden celebrates Lucia. The annual candlelit Lucia procession is maybe one of the more exotic-looking Swedish customs, with girls and boys clad in white full-length gowns singing songs together.
The tradition is that Lucia wears 'light in her hair', which means a crown of candles in a wreath on her head. Each of her handmaidens carries a candle, too. Many people nowadays taking part, especially younger children, use battery-powered candles. But there is still a special atmosphere when the lights are dimmed and the sound of singing grows as they enter the room. Parents gather in the dark with their mobile cameras ready. The star boys carry stars on sticks and have tall paper cones on their heads, and are also dressed in white gowns.

The History of Lucia
The Lucia tradition can be traced back to Saint Lucia of Syracuse, Italy. Saint Lucia was a Christian martyr who died in 304. But the tradition can also be traced to the Swedish legend of Lucia as Adam's first wife. According to the legend, she consorted with the Devil and her children were invisible devils. The name Lucia can be associated with both lux (light) and Lucifer (Satan), and it's difficult to know the exact origins. What you can see in Sweden today is a mixture of traditions.
In the old calendar, Lucia Night was the longest night of the year. It was a dangerous night when supernatural beings were abroad and all animals could speak (yep, we did really believe this). By morning, the livestock needed extra feed. People, too, needed extra nourishment and were told to eat seven or nine (!) large breakfasts.
Before industrial times, young people used to dress up as Lucia figures (lussegubbar) that night and wander from house to house singing songs and scrounging for food and schnapps.
The first recorded appearance of a Lucia dressed in white in Sweden was in a country house in 1764. The tradition did not become universally popular in Swedish society until the 1900s, when schools and local associations in particular began promoting it. The old lussegubbar-custom disappeared with urban migration, and white-clad Lucias with their singing processions were considered a more acceptable, controlled form of celebration than the youthful shenanigans of the past. Stockholm proclaimed its first Lucia in 1927. The tradition of a Lucia serving coffee and buns (lussekatter) dates back to the 1880s, although the buns were around long before that.
The Lucia Buns
Lussebullar, or Lussekatter, are traditional saffron buns that Swedes eat during this time of the year. Each bun is shaped into an S-shape, which is supposed to resemble a curled up cat (hence why some call them Lussekatter), and then two raisins are added to represent the eyes. Nobody knows for sure the origins of the shape and the connection with Saint Lucia, but it seems likely that they were originally called djävulskatter (the devil's cats).
Would you like to have a go at making your own Lucia Buns? Click here to download a free recipe.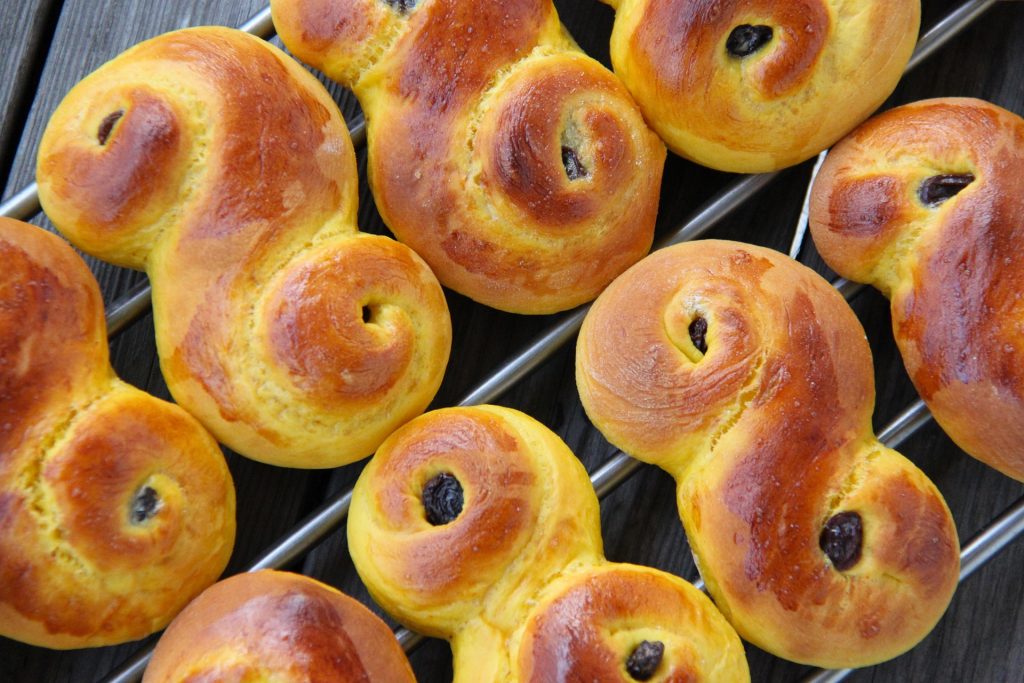 Here are some other useful tips about the Lucia Buns
• Always freeze the buns as soon as they are cold and defrost only what you will use on the same day.
• Lussekatter are best eaten when freshly baked, so if you want them freshly made on the day, you could prepare the dough the night before, cover with clingfilm (food wrap) and store in a fridge overnight.
• For a little more flavour, add half a teaspoon of ground cardamom to the flour. Although cardamom was not traditionally added to lussekatter, many modern bakers in Sweden add a little to enhance the flavour of the buns.
• As saffron buns can dry out very easily take them out of the oven as soon as they are just the right colour, put them on a wire rack and cover them with a cloth. Another thing that you can add to the dough to make the buns less dry, is Quark or Greek Yoghurt.
• Lussekatter are best served slightly warm. If necessary, they can be reheated in a microwave for about 30 seconds on a medium setting (but be very careful not to overheat them). You can also warm them in the oven on low heat (but again, be careful they don't dry out too much).
• Many Swedes like to drink glögg with their Lucia Buns. There is glögg with alcohol available to buy from Systembolaget, but also alcohol free in most food shops.