Skulle du vilja låta mer svensk? / Would you like to sound more Swedish?
Har du aldrig lyckats uttala sjuksköterska, eller vad skillnaden är mellan Å, Ä och Ö? / Never got the hang of how to say sjuksköterska, or what the difference is between Å, Ä and Ö?
Eller när G eller K uttalas hårt eller mjukt? / Or when G or K is pronounced hard or soft?
Känner du sig osäker på hur man betonar ord när man uttalar dem? / Feel unsure of where to stress a word when you pronounce it?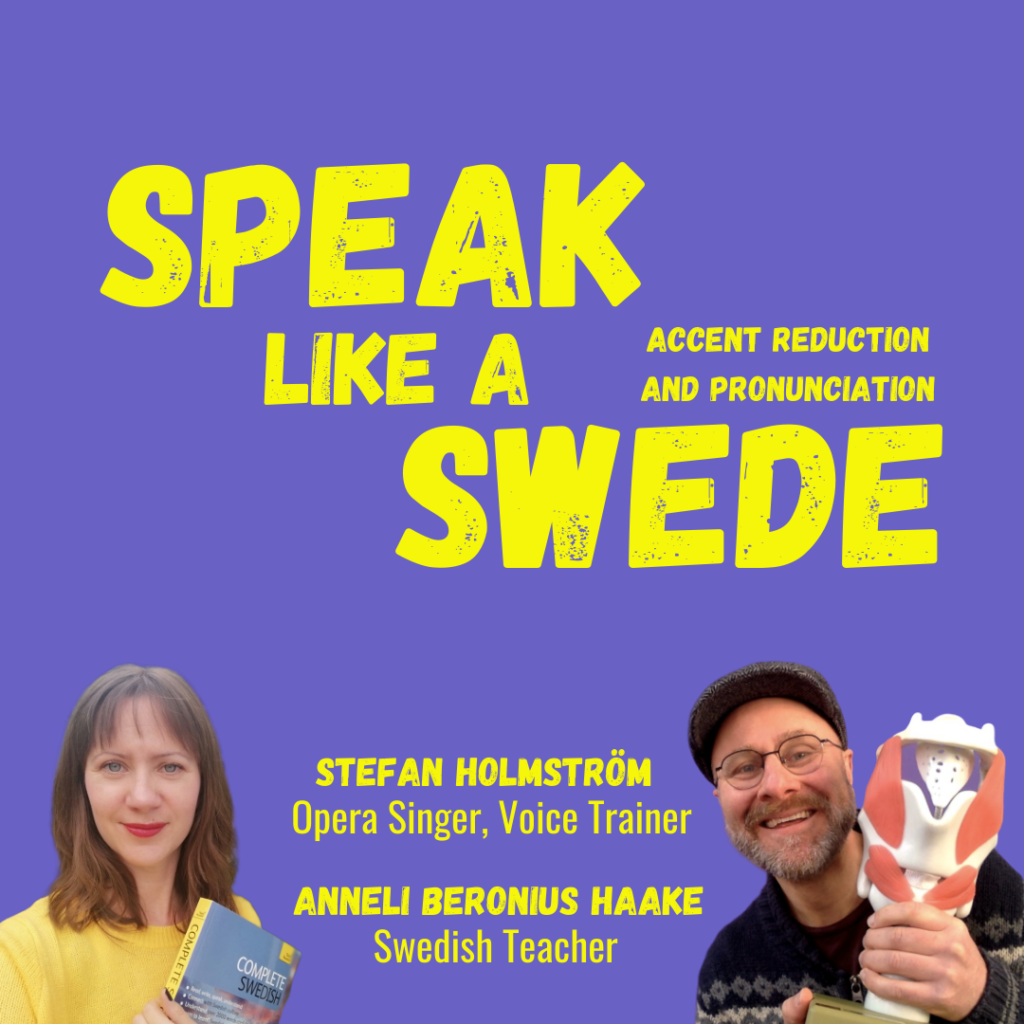 New course on Accent Reduction and Swedish Pronunciation
Speak Like a Swede is a comprehensive, self-paced online course, created by Swedish teacher Anneli Beronius Haake and opera singer/voice trainer Stefan Holmström. In this course, we'll guide you deep into the mysteries of Swedish pronunciation. Find out about how to use your tongue, lips and larynx when you speak Swedish. Explore exercises to strengthen muscles and use your vocal tract in new ways, that will help you reduce your accent. Learn about stress and pitch, and also which consonants aren't pronounced.
Who Speak Like a Swede is for
This course is suitable for anyone who's learning Swedish, but feels unsure of pronunciation. Maybe you're a beginner who feels confused about Å, Ä, Ö for example, or maybe you're a more advanced speaker who'd like to reduce your accent and just sound more Swedish! Perhaps you always get stuck or stumble on certain words/letter combinations, or maybe you've received feedback that the way you say something isn't right.
Whatever the reason, this course will help you to work your pronunciation muscles, show you many accent reduction hacks, and build your confidence when you speak Swedish!
Why Speak Like a Swede is important
Swedish pronunciation is by far the area of the Swedish language that learners feel is most difficult. This is because in your own mother tongue, you're used to using your vocal tract in certain ways. It feels natural. This is called your 'Attractor State'. But when you learn a different language, you can find that the normal way of speaking doesn't work. It doesn't sound right. And that's because you may have to work against your own, natural 'Attractor State'.
There are very few, if any, Swedish pronunciation courses available. Usually, you learn a bit of pronunciation at the same time as learning grammar and vocabulary, but standard courses rarely give you enough time or tools to develop your Swedish pronunciation muscles.
That's why we've created this course. Our unique collaboration (Swedish teacher + opera singer/vocal trainer) means you get a real insight into how Swedish pronunciation actually works, so you can improve yours and start to Speak Like a Swede!
We're not saying it's bad to have an accent. In fact, we love accents and think they make you who you are! However, sometimes accents can make it harder for native speakers to understand what you're saying. And it's easy to let your own, natural 'Attractor State' dictate how you say Swedish words. By identifying exactly what the tongue, the lips and the vocal tract do, you can reduce your accent so you sound more Swedish and so that people will understand you better.
How and what you will learn in the Speak Like a Swede course
In this course, you'll get an insight into what you can do with your tongue, your lips and your larynx, and how you can strengthen any muscles that you're not used to working with. This will give you a solid foundation for when we go through all the vowel and consonant sounds. We'll go through various spellings of certain sounds, so you know how to pronounce all the letter combinations. We'll look at stress patterns in words and in sentences. And you'll get exercises that you can practice on your own. You'll also get downloadable cheat sheets so you can remind yourself of the different sounds and spellings.
How Speak Like a Swede is different to other courses
In this course, Stefan (an opera singer and an Estill Master Trainer) uses the Estill Voice Training (EVT) method as a way to describe how the different parts of in your vocal tract work when you speak Swedish. It's also based on Anneli's 15 years of experience in teaching Swedish to adults all around the world. This unique collaboration between a Swedish teacher and an opera singer will give you a new perspective on Swedish pronunciation, that you won't find in any other Swedish courses. And as a graduate of this course, you will also be given an opportunity to take part in live accent reduction group coaching session with us in the future. This is something we will only offer those who have taken this course and are familiar with the key concepts.
Who is the opera guy?
Stefan Holmström is a professional opera singer and singing teacher working with singers of all genres and levels using Estill Voice Training (EVT) as a baseline for safe and sustainable voice use. He offers online vocal training and workshops from his studio in Brighton, UK.Stefan has performed in a wide variety of roles in opera, musical theatre and concerts in Sweden, Norway, Ireland, Germany, Greece and in the UK at venues like Glyndebourne, Grange Park Opera, Opera Holland Park and as a member of the Phantom of the Opera Company at Her Majesty's Theatre, London.
He says: "As a singer, I've trained to speak and sing in many different languages; it's part of the job. I'm really excited to use my experience together with my expertise in voice training to help people speak better Swedish. The confidence you get from good pronunciation is truly empowering."
How much is this course?
Summer sale price: £350 (until 31 Aug 2020)
Regular price: £450 (1 Sept 2020-)
Payment plan available!