Daniel is a Swedish teacher here at Swedish Made Easy. He teaches all levels, from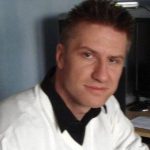 beginner to advanced. He comes from Göteborg in Sweden (which he would adamantly argue is the best city in Sweden), and lives with his family in London, UK. He has worked in education for over 8 years, and taught Swedish since 2013. He has a real passion for languages and has helped to improve literacy levels of children in secondary schools in London (and even helped a school to set up a library!). He also writes books and short stories (check it out).
Here are 11 quick questions for Daniel!
1. Can you play any instruments?
I learned to play the guitar when I attended a music course at university. Wrote and composed a Gospel song called "Godissången" for the children's musical we performed at the end of term. Radio stations across the world played it for years and years and … oh, right. That part was just a dream.
2. What was your favourite TV show when growing up?
Transformers, He-Man, and Star Fleet in the 1980s; X-files and Twin Peaks in the 1990s.
3. Favourite Swedish band?
I realised in 2000-2001 that my favourite band was Kent. Favourite "foreign" band is R.E.M.
4. Do you collect anything?
I had a strange fascination collecting postcards for a long time, but these days that obsession has changed to coffee mugs. I like drinking my fancy Italian coffee in style.
5. Choose a movie title for the story of your life.
A Life Less Ordinary.

6. What is the oldest thing in your fridge?
A frozen House elf from 1821. Mind you, the fridge is from the glorious year of 1816.

7. What, or who, are you a "closet" fan of?
Dolly Parton.

8. What is the nerdiest thing you do in your spare time?
I'm a member of a Swedish film site and record each new film I watch. So far, I've watched 2603 of them. The latest one was Independence Day: Resurgence, which I gave a solid 1 (out of 5).
9. Favourite film?
Are you crazy? There are too many to pick from! Help! Okay, okay, depends on the genre. Overall I'd go with the original 12 Angry Men.

10. What about a favourite Swedish film, then?
That's very difficult too. I'll go with a timeless classic comedy and say Att Angöra en Brygga. All my favourite Swedish actors gathered on an island to celebrate Midsummer, what can go wrong?

11. What are three things still left on your bucket list?
Publish books, travel outside Europe, and provide tools for my children to become decent and caring human beings.
*
To book a lesson with Daniel or to check his availability, click on "Swedish with Daniel" on the booking system