Jessica is a conversational trainer here at Swedish Made Easy. She offers "Skype-fika", which is an opportunity to get to practice improvised conversation with a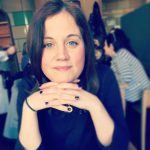 native Swede. Jessica is born and bred in Stockholm but has roots in Austria. She is married and has one child. She has always been interested in people and communication and various contexts, perhaps since she has three fluent languages under her belt. When she worked as an ambassador for "The Swedish Number", she spoke to people from all over the world, which she found fascinating and fun. She has lived abroad, both in Germany and Austria, through different periods in her life. Jessica works in finance in the entertainment industry for a company in Stockholm (SoFo), and prefer to visit cities and beaches to soak up some sun when she can.
Here are 10 quick questions for Jessica.
1.Which Swedish storybook/cartoon character turns you on the most?
Birka Borkason when I was a child.
2. Can you play any instruments?
Played the Clarinet for 3 years.
3. What was your favourite TV show when growing up?
Alfons Åberg
4. Midsummer, Lucia or Christmas?
Christmas
5. What, or who, are you a "closet" fan of?
I don't kiss and tell 😉
6. What Swedish food do you never want to live without?
Bregott butter!!
7. What is the nerdiest thing you do in your spare time?
I don't know if it's nerdy but I clean and organise a lot.
8. Do you have any strange phobias?
Sharks
9. Favourite Swedish saying?
"Det man inte har i huvudet får man ha i benen"
10. What are three things still left on your bucket list?
So so much!!!
To book a Skype-fika with Jessica, go to the booking system and select "Skype-fika" and then "Jessica" as your trainer.