Sophie works as a Swedish teacher at Swedish Made Easy. She is a native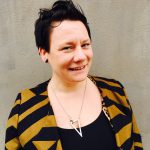 Swede who spent her 20's in London, but these days she is based in Stockholm where she lives with her husband and two children. She works as an rhetoric consultant as well as a equality consultant, with a focus on communication. She has a great love for the Swedish language, its development and uses of languages generally.
Here are 12 quick questions for Sophie.
1.Which Swedish storybook/cartoon character turns you on the most?
Pippi, because she did everything the other way around, didn't follow conventions and had her own very cool look.
2. Can you play any instruments?
A bit of piano and a little bit of guitar
3. What was your favourite TV show when growing up?
Laverne and Shirley
4. Midsummer, Lucia or Christmas?
Midsummer!
5. How old is the oldest pair of shoes in your closet?
My Doc Martin, I bought them in 1996!
6. What, or who, are you a "closet" fan of?
Make up tutorials
7. What is the oldest thing in your fridge?
A year of coconut butter. I know it's good, but can't eat it.
8. What Swedish food do you never want to live without?
Sill!
9. What is the nerdiest thing you do in your spare time?
Play simpsons on my phone
10. Do you have any strange phobias?
Dirty hands
11. Favourite Swedish saying?
Det ordnar sig!
12. What are three things still left on your bucket list?
Jump out of an airplane (preferable with a parachute), Tatoos, My own TV show.
Sophie is available on Thursday mornings for lessons. To book Sophie, go to the booking system and select "Swedish with Sophie".