Last week I visited 2 cafés serving Swedish/Scandinavian food in London, Scandinavian Kitchen and Nordic Bakery.
The Scandinavian Kitchen is a nice and friendly little place, which also has a food store inside. It is a 10 minute stroll from Oxford Street tube station.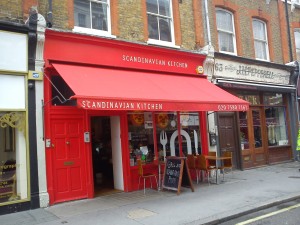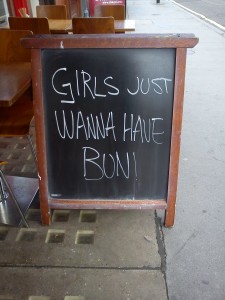 The café serves reasonably priced salads, sandwiches, cakes and coffee/tea. I had to try the meatballs with 3 salads (I went for beetroot, potato and Swedish style coleslaw), and I was happy with the food – it tasted very much like home. 🙂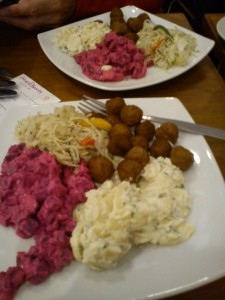 I also picked up some groceries in their food store, namely messmör and vanilla sugar for baking. Oh, and licorice, of course.
The food was quite basic, but good enough and not overpriced. Service was good and staff were very nice and helpful. The place was homely and cheerful, with playful twists on the Scandinavian traditions. I was impressed with their groceries selections. You can also order food online, with free delivery on orders over £50.
The difference between this café and the next one I visited could not have been bigger!
Just like their website, the Finnish-owned Nordic Bakery is dark, moody, minimalist and beautiful.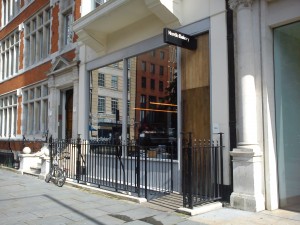 Unfortunately, the (lack of) light inside prevented me from taking any good pictures on my mobile of the interior.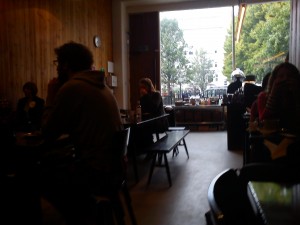 The walls were painted grey and dark blue, and were partly covered in wooden panelling. The ceiling was high, and there was a beautiful window looking out on the Golden Square, just a 5 minute walk from Piccadilly Circus tube station. The interior was stylish and minimalist, far removed from the more cluttery and homely Scandinavian Kitchen.
We sat down and I was very much looking forward to tasting their Finnish style cinnamon rolls, which looked gorgeous.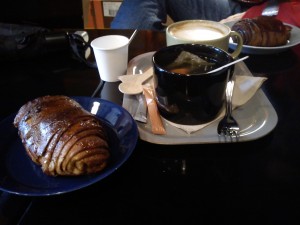 However, I was very disappointed. Personally, I prefer my cinnamon buns to be crispy on the outside and fluffy on the inside, and the dough needs to have risen a lot. The dough in this bun felt as if it had not risen at all, and was just too compact and dry – I could not even finish half of mine (which is unusual). This is of course just a matter of personal taste, and I just didn't like them. I also thought the prices were a bit much – it was very expensive.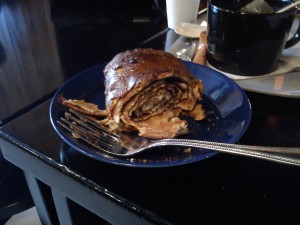 However, I think these two Scandinavian cafes complement each other well, as they have two distinctively different identities and brands. It just depends on whether you prefer homely and cheerful, or stylish and minimalist.
If you live outside of Sweden, and have any Swedish or Scandinavian restaurants, cafes or other places nearby that you'd like to inform about, please e-mail me and you can be a guest blogger on this site!