Recently, Swedish coffee roastery Gevalia launched a major ad campaign in US, featuring Johan – who wants to fika.
https://vimeo.com/44057683
The actor is definitely not Swedish, as he has quite a clear German accent, and the ad has the typical American perspective of Swedes as overtly sexually liberated. But it is fun,  and in the words of Agent Cooper from the tv-series Twin Peaks, Gevalia do make a damn fine cup of coffee. Gevalia is also one of the favourite coffee brands in Sweden, one of the biggest coffee consuming countries per capita in the world!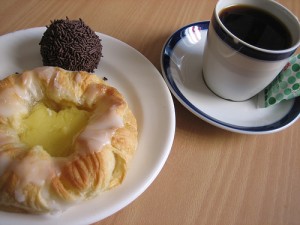 So what about the word 'fika'? It is, like the ad suggests, a traditional Swedish coffee break. A cup of coffee (or tea, or juice), often accompanied with something sweet (biscuits/cookies, cinnamon buns, or even a small sandwich).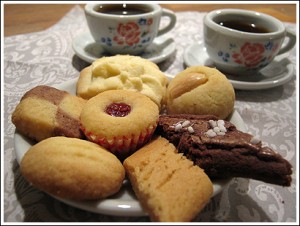 Wikipedia suggests that 'fika' is a social institution in Sweden, and I can only agree. We often take time out during our working days to fika, some (but not all) workplaces have a fika break in the morning (usually around 10-10.30 am) and another one in the afternoon (around 3 pm). After work, Swedish fika is the way to catch up with friends in town.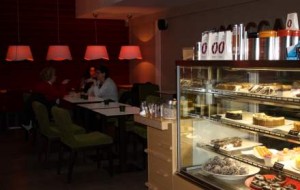 Fika can be a verb (vill du fika imorgon?), a noun to describe the situation (ska vi ta en fika?) and a noun to describe the place (jag vet ett trevligt fik i stan). Fika is backslang for kaffe (or kaffi back in the days: ka-ffi -> fi-ka = fika).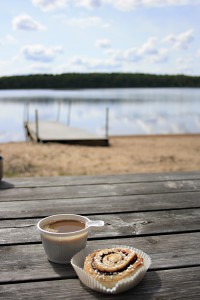 Here are some typical things to eat and drink when having a Swedish fika, in a café:
Drycker – varma: kaffe, latte, espresso, cappucino, chai latte, varm choklad
Drycker – kalla: läsk, juice, iste, islatte, smoothie, saft
Sött: kanelbullar, muffin, chokladbollar/arraksbollar, dammsugare, tårtbit, morotskaka, kladdkaka, paj (äppel/blåbär/rabarber/hallon)
Smörgåsar: ost, skinka, brie & salami, kycklingröra, tonfiskröra, skagenröra, hummusröra
Sallader: Halloumi, ost & skinka, grekisk
You may also find jacket potatoes, maybe some lasagna, maybe some more pies, and perhaps some pancakes. When having a fika at home, many people just stick to a hot or cold drink, and something sweet (bullar or kakor).
How do you like your fika? What are your favourite biscuits/cookies/cakes to go with your coffee?