Amanda is a conversational trainer and she offers "Skype-fika", which is an opportunity to get to practice improvised conversation with a native Swede. She grew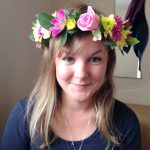 up in Sweden in a small town called Lindesberg, though she has roots in Stockholm and in Jukkasjärvi (where the famous Ice Hotel is located). She now lives in Exeter in the U.K. Beyond having Skype-fika with people from all the corners of the world, she currently works for a travel company, and also works with ceramics and art. She and her wife have two dogs, a hamster and a big stash of yarn since they are both avid knitters.
Here are 10 quick questions for Amanda.
Which Swedish storybook/cartoon character turns you on the most?
Pippi Långstrump! I love her total non-concern about convention and her hedonistic happy-go-lucky attitude. It's very inspiring!
Can you play any instruments?
I sure can. I'm really good at playing the flute traverse! I can also play a bit of bodhran drum and African drums. I can also do 'kulning', the traditional Swedish herding call – though that's not exactly an instrument. Unless you count your voice as being one =)
What was your favourite TV show when growing up?
Charmed!
Midsummer, Lucia or Christmas?
Midsummer definitely. It feels so magical, there is just something about in the air during that time of the year.
How old is the oldest pair of shoes in your closet?
Eeeh, five years maybe? I'm not that bothered with shoes so I tend to just have a few that I wear until they fall apart and I am forced to buy new ones.
What, or who, are you a "closet" fan of?
I'm pretty open with all my weirdness so there isn't anything I'm afraid to share, haha. However, I am a total Pokémon nerd, and currently I am enjoying catching them all in Pokémon Moon which my wife gave me for my birthday (23rd December). I have loved Pokémon since I first discovered the games when I was 12 years old and have played the games one after another…
What is the oldest thing in your fridge?
No idea, we love food in our household so things tend to get eaten. The oldest thing is probably the garlic, but that will also soon be used up.
What Swedish food do you never want to live without?
Salt liqourice! I love 'Turkisk Peppar'.
What is the nerdiest thing you do in your spare time?
That's probably playing Pokémon. And it's not just that I play the games, I know so much about the game world and the different pokémon you can catch. I know which generation the creatures are from, what they evolve into, what type they are…
Do you have any strange phobias?
Not really. The worst fear I have is going on planes and boats I think. Especially boats. They might sink!
Favourite Swedish saying?
'Ingen fara på taket' (no danger on the roof), and my own 'Kom igen, det blir kul!' (come on, it'll be fun!).
What are three things still left on your bucket list?
Learn leather mask making. Get another tattoo, this one along my spine. Buy a borzoi (a beautiful large sight hound dog breed)
To book a Skype-fika with Amanda, go to the booking system and select "Skype-fika" and then "Amanda" as your trainer.