Skype-fika seems to be a sought after service here at Swedish Made Easy! So much so, that we now introduce another conversational trainer: Amanda. She will be available to book for some Skype-fika (conversational training).
Skype-fika does not include specific grammar training, but it is a chance to increase your confidence in speaking, by speaking with a native Swede, who will of course help you with new words, correct pronunciation and grammar glitches. You should be on at least B1-level to do conversational practice with Amanda. You book her through the booking system.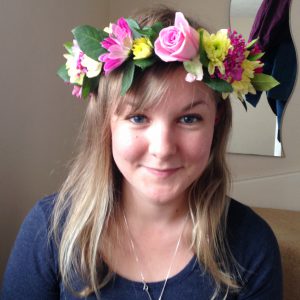 Here are a few words from Amanda:
My name is Amanda, and I offer Skype-fika; conversational training. I grew up in Sweden in a small town called Lindesberg, though I have my roots in Stockholm and in Jukkasjärvi. I live in Exeter in the U.K now since a couple of years back, and I lived in Colchester when I was studying at university. I have always had a great interest in and passion for language and literature, and I have a BA in both Creative Writing and Literature. I currently work for a travel company called Risskov, and I also work with ceramics and art. My wife and I also have two crazy happy dogs, a hamster and a big stash of yarn since we are both avid knitters. I love talking to people about anything and everything, and I can't wait to have a chat with you at a fika! Because of my flexible schedule, I'll be offering fika almost all times of the day.
Jag heter Amanda, och jag erbjuder Skype-fika; konversationsträning. Jag är uppvuxen i Sverige i en liten stad som heter Lindesberg, fast jag har mina rötter i Stockholm och Jukkasjärvi. Nu bor jag i Exeter i England sedan ett par år tillbaka, och jag bodde i Colchester medan jag pluggade på universitetet. Jag har alltid haft ett stort intresse och passion för språk och litteratur, och jag har universitetsexamen i både Creative Writing och litteraturvetenskap. Just nu jobbar jag för ett resebolag som heter Risskov, och jag jobbar också med keramik och konst. Min fru och jag har två galna glada hundar, en hamster och ett stort lager garn eftersom vi båda älskar att sticka. Jag älskar att prata med folk om allt och inget, och jag ser verkligen fram emot att prata med dig över en fika! Tack vare mitt flexibla schema, så kommer jag erbjuda fika nästan alla tider under dagen.