Language builds bridges
Language builds cultural understanding
Language is integration
In this world right now, language bridges and cultural understanding are more important than ever. We believe in using modern technology to share the Swedish language and culture across the globe. Here is the story of how Swedish Made Easy came into being.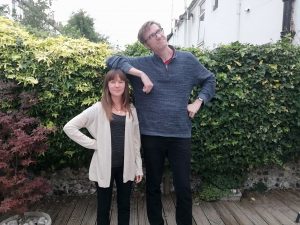 You want to study Swedish but you don't want to (or can't) travel to a particular place at a particular time.
You want a Swedish teacher to guide you, but you don't want to sit in a group among other learners.
You feel self-conscious and embarrassed about trying to speak Swedish and would like help with pronunciation. 
You find Swedish grammar confusing, or you haven't found any resources that give you a real foundation on how to actually put sentences together. 
Or, you have a child that needs flexible Swedish tuition from home.
If any of these statements resonate with you, Swedish Made Easy is here for you. We offer one-to-one or couple's Swedish lessons via Skype/Zoom. We're qualified teachers and native Swedes.
Swedish lessons with Daniel have propelled me at a pace much faster than I had expected. I had been taking lessons in person with a local teacher, but it wasn't until I switched to sessions with Daniel that I began feeling competent and seeing progress. He is such an excellent balance of challenging and patient, and always encouraging. For someone like me starting from the beginning, he is the best choice. Our lessons are a mix of homework review, textbook lessons, reading articles in Swedish and going through worksheets he's made himself. He guides me through the content, but also listens to the areas I want to focus on and factors them in to the curriculum. After 30+ hours of lessons, I couldn't be happier to have him as a teacher!
I started learning Swedish 3 months before I got to Stockholm to start my Master's. And boy am I glad that I started right away with Anneli! The goal for me was simple (if not easy) – to learn enough Swedish in 2 years that it is not an issue when applying for jobs. Fast forward 1.5 years, standing somewhere between B2 and C1, I could not be happier with our progress. After arriving in Stockholm, while my non-Swedish friends were busy dabbling with Duolingo and considering going to SFI classes, I was already on way to finishing up B1. All that elitist talk, just to get across the point that taking classes with Anneli will give you an insurmountable edge. By the way, all of them gave up on learning Swedish... Swedes' good English is a hidden curse because you can get by without learning Swedish. In fact, it took a while before they stopped switching to English with me. That's why I found it all the more valuable when Anneli started conversing almost exclusively in Swedish with me after our first 3 months. I needed all that practice (and still do..). Her patience and genuine curiosity meant that I was not afraid of making mistakes in Swedish – something I wish I could say for the other languages that I am learning. This also makes the classes with her a lot of fun! I still look forward to every single one of my classes with her. Finally – and this one's a doozy – it is the most efficient way of learning Swedish. I can't afford to spend my time commuting to a 3 hour-long evening course with perhaps 15 min of personal attention from a teacher.
What's next? Follow these 5 easy steps below
STEP 1
Get our FREE ebook 'Swedish Beginnings – Learning to Learn, when you sign up to our email list! The ebook includes:
Top 5 Language Learning Myths – Busted!
The 3 Pillars of Learning as an Adult
Quiz – What sort of language learner are you?
Characteristics of Successful Language Learners
What is a Language?
Grammatical Concepts
Keeping a Record of your Lesson
The 4 Main Language Skills
Self-study
Basic Grammar Glossary
With the help of this ebook, you will:
1. Learn about some common myths around language learning and why they are wrong. This is a key to feel more confident and enjoy your language learning.
2. Understand more about how self-studying works when you are an adult.
3. Develop an insight into how you prefer to learn, so you can organise your language learning in the best way that works for you.
4. Get a grammar glossary that you can learn from and also refer to later on as you progress.
You will also get our useful blog posts, where we offer tricks and tips on difficult Swedish grammar and pronunciation.
STEP 2
Check out the NEW BOOK: Teach Yourself Complete Swedish by Dr Anneli Beronius Haake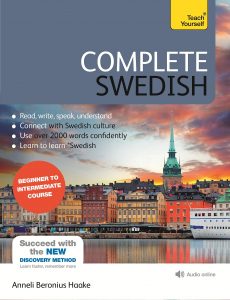 Featured in BBC's Twinstitute (episode 6)
Also, check out all the course books we use in our lessons.