Hej!
Are you looking for Swedish lessons online? Do you want your Swedish lessons to be flexible to suit your work patterns and lifestyle? Welcome to Swedish Made Easy!
At Swedish Made Easy we believe in using modern technology to share the Swedish language and culture across the globe.
Some words from previous students:
The teaching was structured yet relaxed, intense but enjoyable. Most importantly, I could quickly see the results and my confidence in speaking Swedish rapidly improved. Anneli's classes were always well prepared, interesting and adjusted to my needs. Apart from being a great teacher, she is fun and a real pleasure to talk to and I genuinely enjoyed my time with her.
Daniel is a great teacher, if he wasn't I wouldn't have him as my teacher for two hours a day, Monday – Friday. Within the first minutes I felt comfortable speaking to him in my jumbled and often non-coherent Swedish. I couldn't recommend him enough.
The goal for me was simple (if not easy) – to learn enough Swedish in 2 years that it is not an issue when applying for jobs. Fast forward 1.5 years, standing somewhere between B2 and C1, I could not be happier with our progress. After arriving in Stockholm, while my non-Swedish friends were busy dabbling with Duolingo and considering going to SFI classes, I was already on way to finishing up B1. All that elitist talk, just to get across the point that taking classes with Anneli will give you an insurmountable edge. By the way, all of them gave up on learning Swedish…
You might also be interested in:
Interested in lessons? Lesson prices, how long does it take to learn Swedish, do I need to get books, how to pay, etc? First check FAQ. Then send an e-mail to iwanttolearnswedish (at) gmail.com to receive more info on how to book, pay, etc.
Follow us here:
Facebook: Swedish teacher Anneli Haake
Twitter: @easyswedish
Youtube: swedishmadeeasy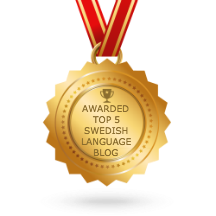 most header pictures by David Lindsay