How much does a lesson cost?
PRICES
Swedish lessons for adults with a Swedish teacher
£27 per Swedish lesson per person, buy 10 lessons for £240  (valid for 13 weeks from first lesson date)
Teachers: Anneli and Daniel
Swedish lessons for children and young people with a Swedish teacher
5 lessons for £120 per pupil
Teachers: Daniel
Skype-fika for adults with a conversational trainer (B1-level and up)
£22.50 per person
Conversational trainers: Jessica and Amanda
TERMS AND CONDITIONS
50 min lessons
24 hour cancellation policy
Payment in advance
Package of 10 valid for 13 weeks from first lesson date
– For a full price list and bespoke offers, get in touch
Accepted payments to UK bank account, Swedish bank account and Paypal, and also Swish. E-mail iwanttolearnswedish (at) gmail.com for payment details.
Can I get an invoice or a receipt?
Of course!
1. We can create an invoice through paypal that you can pay against
2. We can send you a traditional invoice in Word, and/or also a receipt in Word
Just tell us what you would prefer!
What is your teaching schedule?
You can view the teaching schedule online and also book lessons online. Click here.
How long will it take before I can speak decent Swedish?
It is really hard to say how long it will take for someone to make a certain progress, as there are a number of factors that come in to play. Some of them are individual learning pace in general, previous knowledge of grammar (those with much knowledge tends to progress faster), how much homework the learner is able to do between lessons (faster if more homework), and also if the learner has any particular areas that they find challenging. Quick learners can reach level A1 in about 20 tuition hours, whereas some might need 30 or more. But of course, you can learn a some basic conversational phrases to get by in only a few hours!
The course books that we work with cover levels A1-C1:
A1: Can understand and use familiar everyday expressions and very basic phrases aimed at the satisfaction of needs of a concrete type. Can introduce him/herself and others and can ask and answer questions about personal details such as where he/she lives, people he/she knows and things he/she has. Can interact in a simple way provided the other person talks slowly and clearly and is prepared to help.
A2: Can understand sentences and frequently used expressions related to areas of most immediate relevance (e.g. very basic personal and family information, shopping, local geography, employment). Can communicate in simple and routine tasks requiring a simple and direct exchange of information on familiar and routine matters. Can describe in simple terms aspects of his/her background, immediate environment and matters in areas of immediate need.
B1: Can understand the main points of clear standard input on familiar matters regularly encountered in work, school, leisure, etc. Can deal with most situations likely to arise whilst travelling in an area where the language is spoken. Can produce simple connected text on topics which are familiar or of personal interest. Can describe experiences and events, dreams, hopes & ambitions and briefly give reasons and explanations for opinions and plans.
B2: Can understand the main ideas of complex text on both concrete and abstract topics, including technical discussions in his/her field of specialisation. Can interact with a degree of fluency and spontaneity that makes regular interaction with native speakers quite possible without strain for either party. Can produce clear, detailed text on a wide range of subjects and explain a viewpoint on a topical issue giving the advantages and disadvantages of various options.
C1: Can understand a wide range of demanding, longer clauses, and recognize implicit meaning. Can express ideas fluently and spontaneously without much obvious searching for expressions. Can use language flexibly and effectively for social, academic and professional purposes. Can produce clear, well-structured, detailed text on complex subjects, showing controlled use of organizational patterns, connectors and cohesive devices.
Here is a broad guideline based on how many hours you spend doing homework, in relation to tuition hours, and also in relation to whether you are a fast, medium or a slower learner (but by no means an exact measurement!):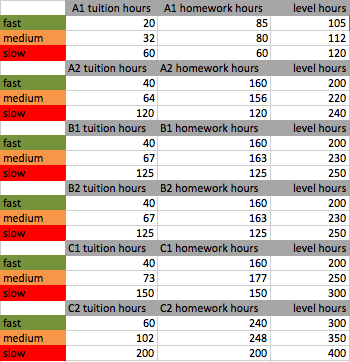 Are you native speakers?
Yes, we are all native speakers.
What is your teaching experience and background?
We all have extensive teaching experience. Have a look at our backgrounds here.
What can I expect from a lesson?
A lesson usually looks like this:
brief improvised conversation
going through previous homework
working together with the course material
new homework for next lesson being given (for ex writing tasks, grammar exercises, listening exercises). You will need to send your homework back to your teacher before the next lesson.
After every third chapter in the course material (A1-B2), you will do a test.
You can read what some of the previous students have said here. 
What kind of material do you use? Do I need to get books?
If you are a beginner or intermediate, then you will most likely need to get hold of text and exercise books. We currently use the course books Rivstart and Form/Text i fokus, Rivstart Yrkesliv and sometimes also Avancera Ord. We will also from 2018 use Teach Yourself Complete Swedish.
Contact us if you would like to discuss which course books will best suit your needs. Or why not take a test to check your level?
If you are looking to do Skype-fika, you don't need to get any course books.
What is Skype-fika?
Skype-Fika is conversational training, a kind of one-to-one language café on Skype. It does not include specific grammar training and it does not follow a lesson structure, instead it is a chance to increase your confidence in speaking, by talking to a native Swede, who will of course help you with new words, correct pronunciation and grammar glitches. You should be on at least B1-level to do a Skype-fika. We have two conversational trainers who offer Skype-fika; Jessica and Amanda.
Can I share a Skype lesson with someone (my partner or friend for example)?
Yes you can! If you and your partner/friend wanted to do Skype lessons together as a couple, you will get a third off the price per person.
This looks interesting, but I feel uncomfortable about learning Swedish via Skype/online.
It is common for those not used to Skype or online communication to feel this way. We recommend first reading this article written on this topic, which explains that this kind of learning has many benefits.
If you still have questions or doubts after reading this article, feel free to e-mail swedishmadeeasy (at) gmail.com and we can discuss it further. We can always do a quick 10 min Skype call to test it all out, if you wish!