Many students ask how long it takes to learn Swedish. We have previously written a longer blog post about it, but we have now also worked out a little rough guideline to how many hours it usually takes to reach each language level. This is a very rough estimate, and can vary considerably between individuals, but it may at least give an idea of what to expect.
Let's start by being honest and say that you will not be able to become fluent in Swedish in 1 or 2 weeks. Anyone claiming that it is possible, is simply lying. Language learning is a long process – a bit more like a marathon than a quick sprint. Be wary of claims that you can learn a language fluently in x days/months, there are no miracle methods. If it sounds too good to be true, it probably is.
How long it takes to learn Swedish will depend on a number of factors. Some of them are individual learning pace in general, previous knowledge of grammar (those with much knowledge tend to progress faster), how much homework the learner is able to do between lessons (faster if more homework), and also if the learner has any particular areas that they find challenging.
The calculation below is based our students and how long people in general spend to reach each level. It takes into account whether the student is a slow, medium or fast learner, and also on how much time the learner spend doing homework and other things outside of the lessons. The more hours you spend learning outside of the tuition hours, the faster you will progress (and it will be cheaper for you too!).
The calculation is also roughly correlated to the guided learning hours according to Deutsche Welle for German, Cambridge English Language Assessment for English, and Alliance Française for French.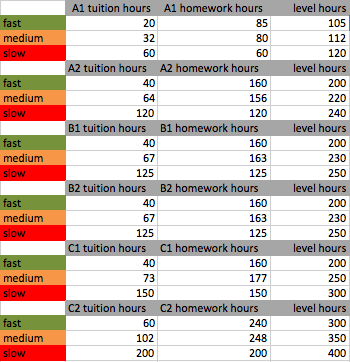 The 'slow' number is in our opinion longer than most people need. It is quite common to be somewhere between fast and medium. Our fastest student reached level A1 after only 17 hours tuition on Skype! But some students have needed at least double the time.