Hur svenskar firar påsk
(Swedish – English below)
Påsken är en av de största högtiderna i Sverige, och det finns en mängd olika traditioner som är unika för landet. Men hur firar svenskarna påsk? Häng med mig när jag tar dig på en rundtur genom svenska påsktraditioner och historien bakom dem.
Historia
Påsken har sitt ursprung i kristendomen och firas till minne av Jesu Kristi död och uppståndelse. Men traditionerna som är förknippade med påsken i Sverige går långt tillbaka i tiden och har sina rötter i hedniska ritualer.
Enligt den svenska folktron var påsken en tid då häxorna flög till Blåkulla för att träffa djävulen. För att skydda sig mot häxorna och onda andar skulle man tända eldar och springa runt på åkrarna med ris för att driva bort dem.
Påsktraditioner
Idag är påsken i Sverige en blandning av religiösa och sekulära traditioner. Här är några av de vanligaste som du ser när svenskar firar påsk:
Påskriset
Att pynta med påskris är en tradition som har funnits i Sverige i över 200 år. Man klär grenarna med fjädrar, färgade ägg och annat pynt. Men varför gör vi det? Enligt en gammal folktro skulle påskriset skydda hemmet mot häxor och onda andar. Men idag är det mer en kul grej som barnen gillar att pyssla med.
Påskägget
En av de mest populära påsktraditionerna i Sverige är påskägg. Dessa ägg är vanligtvis dekorerade med färgglada mönster och symboler, såsom kaniner, kycklingar och blommor. De fylls med en blandning av sötsaker, choklad och andra godsaker, som göms i huset eller trädgården för barnen (och kanske vuxna också!) att hitta på påskmorgonen.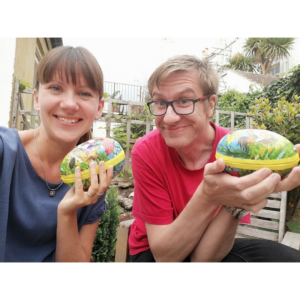 Traditionen att ge påskägg tros ha uppstått från den antika kristna seden att avstå från ägg under fastan, perioden av fasta och botgöring som leder upp till påskdagen. På påskdagen kokades sedan ägg och dekorerades med olika färger och mönster för att symbolisera Jesus Kristi uppståndelse.
Idag har traditionen med påskägg utvecklats till en rolig och spännande aktivitet för barn, som ivrigt väntar på chansen att söka efter de gömda godbitarna. Det är också en tid för familjer och vänner att samlas och dela glädjen över påsktiden. Förutom de traditionella påskäggen säljer många butiker och affärer i Sverige nu ett brett utbud av påskägg, från små enkla till stora och elaborerade fyllda med alla sorters godis.
Påskmaten
Påsken är också en tid för god mat. I Sverige äter man traditionellt sett lax, sill och ägg till påskmiddagen. Men det finns också regionala variationer. I västra Sverige är det vanligt att äta nötkött medan man i norra Sverige äter renkött. Och i södra Sverige är det vanligt med en riktigt god påsktårta.
Påskkärringar
Påskkärringar är en populär tradition i Sverige med ursprung i folktron och hedniska traditioner. På skärtorsdagen klär barnen ut sig och går runt i grannskapet för att be om godis. Påskkärringarna klär ofta ut sig med trasiga kläder, smutsiga ansikten och bär med sig kvastar för att "flyga" till Blåkulla, en fiktiv plats där påskhäxor sägs samlas för att festa med djävulen. Detta är en rolig och lekfull tradition, och en unik del av den svenska påskkulturen där barnen får möjlighet att klä ut sig och få lite extra godis.
Så oavsett om du firar påsken genom att tända påskbrasor och pynta med påskris, ge godis till påskkärringar eller genom att njuta av god mat, så finns det något för alla i Sverige under denna högtid. Det är en tid för gemenskap, glädje och förnyelse, där vi kan ta en paus från vardagens stress och bara njuta av livet tillsammans med våra nära och kära.
Easter is one of the biggest holidays in Sweden, and there are a variety of different traditions that are unique to the country. But how do Swedes celebrate Easter? Join me as I take you on a tour of Swedish Easter traditions and the history behind them.
History
Easter has its origins in Christianity and is celebrated in memory of the death and resurrection of Jesus Christ. But the traditions associated with Easter in Sweden go far back in time and have their roots in pagan rituals.
According to Swedish folklore, Easter was a time when witches flew to Blåkulla to meet the devil. To protect themselves from the witches and evil spirits, people would light fires and run around the fields with twigs to drive them away.
Easter Traditions
Today, Easter in Sweden is a mix of religious and secular traditions. Here are some of the most common ones that you'll see when Swedes celebrate Easter:
Easter Twigs
Decorating with Easter twigs is a tradition that has been around in Sweden for over 200 years. The twigs are dressed with feathers, coloured eggs, and other decorations. But why do we do it? According to old folklore, Easter twigs were meant to protect the home from witches and evil spirits. But today, it's more of a fun activity that children like to do.
Easter Eggs
One of the most popular Easter traditions in Sweden is the "påskägg", which translates to "Easter egg" in English. These eggs are typically decorated with colourful patterns and symbols, such as bunnies, chicks, and flowers. You then fill them with an assortment of sweets, chocolates, and other treats, which are hidden in the house or garden for children to find on Easter morning.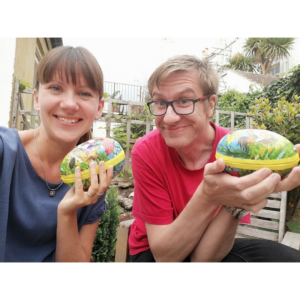 The tradition of giving Easter eggs is believed to have come from the ancient Christian custom of abstaining from eggs during Lent, the period of fasting and penance leading up to Easter Sunday. On Easter Sunday, you boiled the eggs and decorated them with different colours and patterns to symbolise the resurrection of Jesus Christ.
Today, the tradition of Easter eggs has evolved into a fun and exciting activity for children, who eagerly anticipate the chance to search for the hidden treats. It is also a time for families and friends to come together and share in the joy of the Easter season. In addition to the traditional påskägg, many stores and shops in Sweden now sell a wide variety of Easter eggs, ranging from small, simple ones to large, elaborate ones filled with all sorts of goodies.
Easter Food
Easter is also a time for good food. In Sweden, traditional Easter dinner consists of salmon, herring, and eggs. But there are also regional variations. In western Sweden, it's common to eat beef while in northern Sweden, reindeer meat is the norm. And in southern Sweden, a really good Easter cake is common.
Easter Witches
"Påskkärringar" (Easter Witches) is a popular tradition in Sweden with origins in folklore and pagan traditions. On Maundy Thursday, children dress up and go around the neighbourhood asking for sweets. "Påskkärringarna" often dress in ragged clothes, dirty faces, and carry brooms to "fly" to Blåkulla, a fictional place where Easter witches are said to gather to party with the devil. This is a fun and playful tradition, and a unique part of Swedish Easter culture, where children can dress up and get some extra sweets.
So whether you celebrate Easter by lighting Easter bonfires and decorating with Easter branches, giving sweets to Easter Witches or by enjoying good food, there is something for everyone in Sweden during this holiday. It's a time for community, joy, and renewal, where we can take a break from the stress of everyday life and just enjoy being together with our loved ones.