Have you tried semlor? It's that time of year again! On Tuesday, it's the day of the Semla. It's that time of year again! On Tuesday is the day of the Semla. Semlor (plural, semla in singular) are cardamom buns with cream and almond paste, commonly available from the official end of the Christmas season (tjugondag Knut on January 13th) until Easter. Originally they were only eaten every Tuesday from Shrove Tuesday (Fat Tuesday) until Easter. Nowadays, well… let's say we eat them a bit more often during this period of the year.
Here is my recipe for semlor
Ingredienser:
75 gram smör
2,5 dl mjölk
25 gram jäst
2 krm salt
0,5 dl socker
1 tsk stött kardemumma
8 dl vetemjöl (ca 500 gram)
1 ägg till pensling
Fyllning till semlorna:
200 gram mandelmassa eller marsipan
1 dl grädde eller mjölk att ha i mandelmassan
3 dl vispgrädde att vispa
0,5 dl florsocker att pudra semlorna med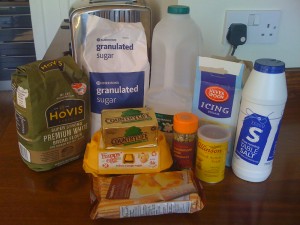 Gör så här:
1. Mal kardemumman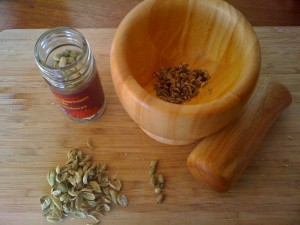 2. Aktivera jästen (om du behöver – gör som det står på jästpaketet). Blanda ihop mjöl, socker, salt, och kardemumma. Tillsätt mjölk, jäst, och smält smör.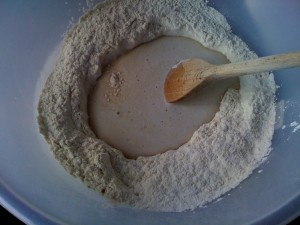 3. Blanda till en deg. Låt degen jäsa i 45 min, under en handduk.
4. Dela degen i 12 delar. Baka ut till små runda bullar. Lägg bullarna på bakplåtspapper. Låt bullarna jäsa i 30 min, under en handduk.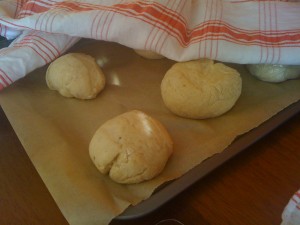 5. Sätt ugnen på 220 grader. Rör ihop ett ägg, och pensla ägg-mixen på bullarna. Grädda bullarna i ugnen i ca 8 minuter, tills de fått en gyllenbrun färg.
6. Under tiden, riv marsipanen. Tillsätt 1 dl mjölk eller grädde. Låt mixen stå ett tag.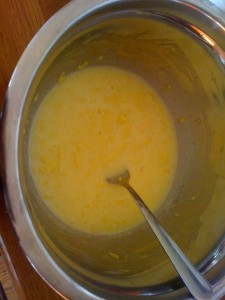 7. Ta ut bullarna ur ugnen, låt dem svalna under en handduk.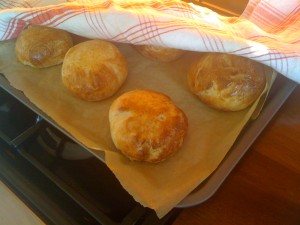 8. Skär ut locket på bullarna, och skrapa ut smulorna inuti. Tillsätt smulorna i marsipan-mixen.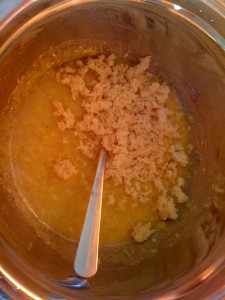 9. Lägg i marsipan-mixen i bullarna.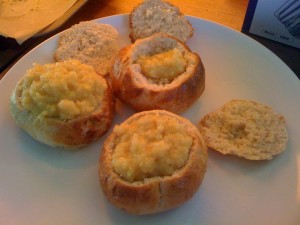 10. Vispa lite grädde, och lägg grädden på marsipan-mixen. Lägg sedan locket på, och pudra lite med florsocker. Tadaaa! Klart!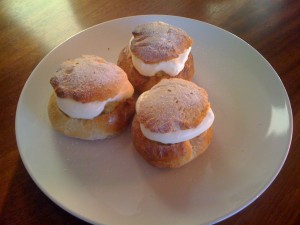 Or you could just buy some semla in any café in Sweden, or maybe at Scandinavian Kitchen in London if you are there?