If you need some extra motivational factors to keep your Swedish lessons going, then how about this one: a new study shows that studying a foreign language actually makes your brain grow.
The study compared language students who studied a foreign language full time with students who studied other topics full time (for ex medical students). Their brains were scanned before and after a 3 month intensive study period.
Whereas the other students' brains were unchanged, the language students' brains had increased in volume in specific areas: the hippocampus and three areas of the cerebral cortex.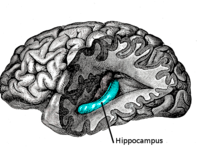 Students with larger increases of volume in hippocampus and superior temporal gyrus (a part of cerebral cortex associated with language learning) did better in the language classes. Students who found the language learning process harder had a larger volume increase in the "motorical part" of cerebral cortex (middle frontal gyrus).
All in all, the researchers conclude that their research demonstrate that foreign language learning is a good way of keeping your brain active. This is also further confirmed by previous studies that have shown that bi- and multilingual people develop Alzheimers later than other groups.
Read more about the study here.